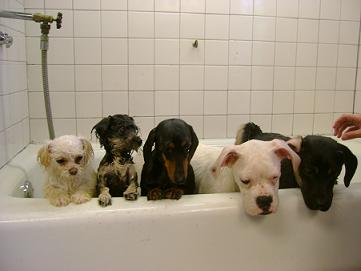 Are those nails getting to be too much? Is that hair getting out of control? The Jackson Day Spa is the answer to your prayers.
We can cut your hair in almost any of the current styles. We have a wide range of shampoos that can help with your dry skin, get your coat white, and make you smell fresh and clean. We have a de-shed selection that can remove that irritating undercoat. And if fleas and ticks are your problem, all of our grooming selections include a special shampoo that is sure to kill any pests that live in your hair. We also apply a preventive after your bath. We will clean those ears with a special cleaner and trim up those nails.
So call and set up your appointment today for your complete beauty treatment. We accept everyone, no matter size, shape, or temperament. And if the stress of waiting to see your new look is just too much, we also offer sedation, for your comfort as well as ours.Check out our Groomer's Page.
For information on what kind of grooming care your baby might need, please visit Next Day Pets. Search by breed to see what they recommend for your pet.